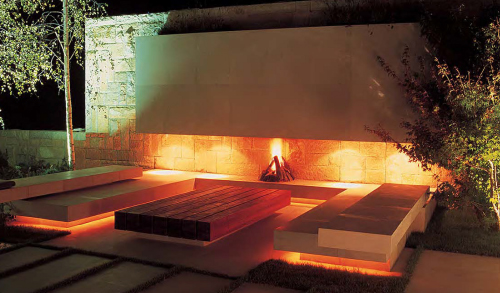 designer: vladimir djurovic landscape architecture  – project name: nb. mountain escape  - type: residential  - location: lebanon.
The challenge with this project, a vacation chalet located in faqra, lebanon, was to ensure minimal impact of the lighting on the architecture. This limited site is designed and controlled with a series of manipulations to blur all boundaries between the site and the horizon.
Matching color temperatures enhances the blending of elements with the surrounding and helps give identity to that space by its color tone. The magnificent pool area has commanding views out to the surrounding mountains and has been lit by cool narrow beams while the sitting area and the fireplace were warmed up by halogen spots and linear leds.
The stepping stones were lit in a way that would give the illusion of floatiness, leading guests down to a bar area.
The residence, years onwards, is still serving it's initial brief. The space is used for private reflection and to entertain friends and family.