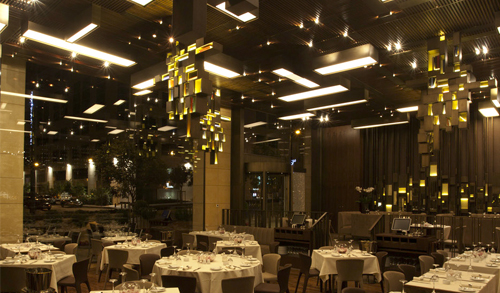 designer: gatserelia design  -  project name: cocteau  -  type: restaurant location: lebanon
cocteau is an upscale restaurant with a particularly lavish interior. the lighting was designed so it compliments the architect's concept; integrating the correct color temperature along with the correct power output drew upon the architecture of the design. to add flow to the differently heighted wooden cladding, LED strips were integrated within to give warmth to the vast interior, creating an intended sense of synergy.
jean cocteau's works are distributed onto a bookshelf inspired luminaire which is lit using invisible LED strips. this falls perfectly within the modernist interior of the restaurant.
to provide an ambient light, ceiling mounted rectangular boxes are lit with fluorescent lamps. however, to accentuate the lighting of the dining area, directional spotlights are installed.
the lighting scheme is designed and installed so as to provide each area with the intensity of lighting needed, intentionally allowing some spaces to remain in relative darkness.