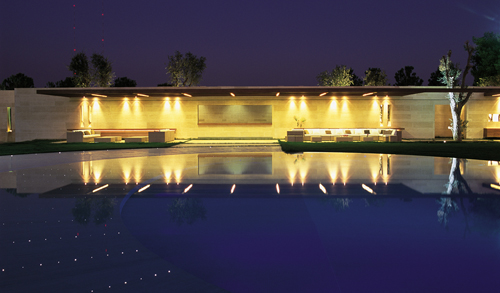 designer: gatserelia design  - project name: n.a residence – type: residential  - location: yafoor I syria.
The basic task here was to create an outdoor setting capable of hosting events for up to 300 people. The complications were the harsh desert climate and the timetable – six months from design to completion. all required functions, including an industrial kitchen, open bar, bathrooms, showers and changing rooms, are embedded within two limestone walls, between a series of linear gardens. Three finishing materials are used: travertine for all flooring and the swimming pool; nuala limestone for the walls of the 40-metre-long pergola; and teak wood for the shade structure.
The challenge in this project was to create a completely dynamic atmosphere. Using exterior lighting with fully hidden light sources, side by side to a customized animated color changing pool with fibre optic lighting.