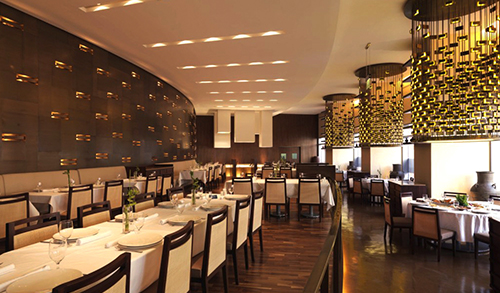 designer: gatserelia design  -  project name: al sultan brahim  -  type: restaurant  -  location: dubai
al sultan brahim is a lebanese seafood restaurant with a widely pleasant, profoundly timeless and highly comfortable design. the lighting is a mix between suspended lighting and recessed spotlights and LEDs, integrated in the curved back wall and ceiling. the main lighting attraction are the chandeliers, custom made with overlapping brass plates with a bronze finish with integrated led lighting. suspended within the space, they break up the height of the room and increase the sense of intimacy. neutral white led strips concealed on the lower part of the chandeliers were chosen to complement daylight. the shadow effect these suspensions have on the ceiling and walls is both dramatic and atmospheric.
the exterior visual barrier of fish flying in space, besides being visually appealing, works through an effect of light on the polished stainless steel (sun during the day and spotlights during the night) as a visual barrier between the restaurant and the surrounding spaces.